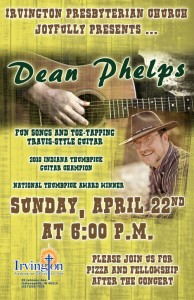 Located in the historic Irvington neighborhood on the east side of Indianapolis, Irvington Presbyterian Church has been serving its community for over 100 years. The congregation opens its doors both to welcome and to serve.
The congregation hosts a concert series on the fourth Sunday evening of each month. I have the privilege of performing for this series on April 22, and I've got to tell that I'm really looking forward to it.
The concert will last 45-50 minutes, and the church will host a reception afterward.
Irvington Presbyterian is a very active congregation, and I greatly appreciate the opportunity to share music and fellowship with them and their guests.