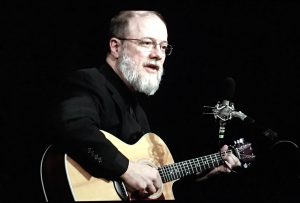 Part blues and part old school country, seasoned with a pinch of gospel, Kentucky-born guitarist Dean Phelps combines the rhythmic beat of thumbpick guitar with a soulful vocal style. He stirs his guitar and voice into a repertoire of songs from the late 19th and early 20th centuries, creating a style that is reminiscent of performers like Merle Travis and Doc Watson, with just a hint of Leon Redbone.
Dean has earned both local and national recognition for his guitar playing, winning the National Thumbpicking Guitar Contest at the Ozark Folk Center in Mountain View, Ark., and being named thumbpick guitar champion at the Indiana Picking and Fiddling Championship.
Performances
Dean's live performances have been well received in a variety of venues. He is equally at home playing in cafes, restaurants, concert venues, churches, private parties, and business gatherings. He is astute at recognizing what is required and tailoring his performance to fit the setting.
Dean has appeared as the featured artist on Red Barn Radio, including the 2016 Appalachian Christmas special. Before returning to Kentucky this year, he performed at Denver area venues like the Oriental Theater and Swallow Hill.
Recordings
Dean's latest solo release, Smiles – Live from Red Barn Radio, is a compilation of live recordings from his appearances on the Red Barn Radio program. Dean also teamed up with Brian Keith Wallen on a seven-song EP, Mountain Roads.
Picking the Faith, released in 2012, marries the toe-tapping guitar beat of the thumbpicking style with traditional hymns and gospel music that he learned in his youth. His other CD titles include: Give Us a Song, which continues to receive radio airplay across the U.S. and Europe; This Old House, an exploration of Dean's musical influences with producer Steve Creech; and his first recording, Going Over Home, released in 1997.
---
---
Photos
High resolution images for print are available here.