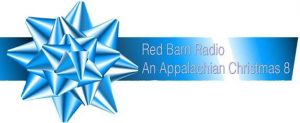 It was sheer delight to join the Sara Holroyd Singers, Sarah Kate Morgan, and The Local Honeys for the taping of Red Barn Radio's eighth Appalachian Christmas program. The program will air this week, so you can tune in and enjoy the show.
In Kentucky, Appalachian Christmas will air on KET1 on Thursday, December 22, at 11:30 p.m. The radio program will air on Christmas Eve, and the broadcast will be streamed for listening online on WUKY.FM at 8:00 p.m., and on WEKU.FM at 9:00 p.m. (all times U.S. Eastern Standard Time, UTC-5:00).
The Sara Holroyd Singers
The Sara Holroyd Singers, formed by alumni of the University of Kentucky Choristers, perform A Shaker Worship Service, arranged by Salli Terry. Members of the group participated in the Choristers' re-enactment of a Shaker worship service at the Shaker Village at Pleasant Hill, Ky. Also, known as Shakertown, the Shaker Village and the worship service hold great significance for group members.
Dean's performance features his guitar and vocal arrangement of the John Jacob Niles song, I Wonder As I Wander.