Brian Keith Wallen tours through Colorado about twice a year, and when he does, we usually schedule a few shows together. This month I'm excited to be playing four gigs with Brian between September 15 and 18. So here's the line up for fans and friends along the Front Range.
September Show Dates
Meeting Brian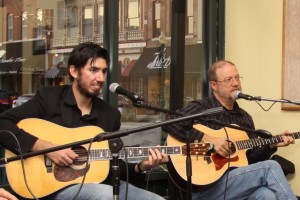 A few years ago, I played a concert in Greenfield, Indiana. The promoter contacted me a few days ahead and said, "I've booked an opening act for the show. He's a young guy, but he's pretty good." That's when I first met Brian Keith Wallen.
The evening of the concert, as I prepared to play my set, I sat spellbound and maybe a little dumbfounded as I watched Brian move seamlessly and effortlessly back and forth from guitar to fiddle to banjo. He played with energy and precision, and his vocals were soulful. He was in his late teens at the time, and it was hard to believe what I was hearing from someone so young. I remember saying to myself, "They got this one backwards, because I should be opening for him!"
Brian and I have remained friends, and I've watched as he has developed as a musician and as a performer. Together with Ted Yoder and Marty Price, we formed The Champions. I'm proud to be associated with Brian and grateful for every opportunity we have to play together. We seem to bring out the best in each other. I know he brings out the best in me.