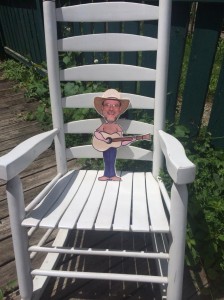 It was bound to happen sooner or later. I have an alter ego, Flat Dean, who has been making appearances as of late in and around the canal town of Metamora, Indiana.
I am no stranger to Metamora, so it's no wonder that Flat Dean made his first appearance there. Some of my most magical musical moments have happened in that quaint little town, located on the Whitewater River in southeast Indiana. The Champions had our serendipitous beginning during the Old Time Music Festival on Labor Day Weekend in 2011.
Every time I have played in the sanctuary of the Methodist church there, I've had a profound experience. Brian Keith Wallen, Rick and Holly Garrett, and I held a reunion concert on Black Friday last year at the Cat and the Fiddle at the Thorpe House. My musical memory has a firm anchor in Metamora.
So it's no wonder that Metamora is where Flat Dean first appeared, on the Pickin' Porch at Mosaic Learn and Play, Rick and Holly's business that just opened there.
Who knows where Flat Dean might pop up next? And when might 3-D Dean and Flat Dean meet?