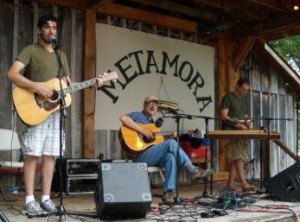 On Labor Day Weekend, I was privileged to join some great friends and wonderful musicians at the Metamora Old Time Music Festival in Metamora, Indiana. The festival has been going on for several years now and features some of the best acoustic and roots musicians from Indiana, Ohio and Kentucky.
This was my first year at the Metamora Festival, and, good Lord willing, it won't be my last. It's a very well organized festival featuring fabulous music and workshops. Gail Ginther gets a big tip of the hat for the work she puts in as the moving force behind the Old Time Music Festival.
I played two sets, gave a workshop on the thumbpick guitar style and thoroughly enjoyed it all. However, two highlights of the weekend really stand out. One was the worship service on Sunday morning at Metamora United Methodist Church. Patchwork, Ted Yoder, Brian Keith Wallen and I offered worship through music and meditation. The gospel was preached in song that morning, and it was a very moving experience. I'll carry that service with me for a long time to come.
Then on Sunday afternoon, my set followed Ted Yoder, who won the national hammered dulcimer competition at Winfield, and preceded Brian Keith Wallen, who won the Cincinnati Blues Challenge this year. As I wrapped up my set and Brian started his, Ted joined us, and the three of us launched into a rousing rendition of I Saw the Light.
It was a thrill to get Ted's Fan Friday video and learn that his wife Donna had shot video during the song. The video is included here for your enjoyment. (Visit Ted's YouTube channel for more Fan Friday videos and more examples of what a phenomenal player he is.)
I've just got to say that it's wonderful to be in that range of middle age where Ted calls me an "older gentleman" and Bob Saxton calls me a "young man."
You can also see and hear more from Brian Keith Wallen on his YouTube channel as well. Be sure to catch his posts for New Music Mondays.