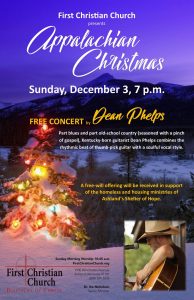 Dean will be in concert at First Christian Church in Ashland, Ky., on Sunday evening December 3 at 7:00 p.m. The concert is a benefit for Shelter of Hope, which is preparing to mark its 30th year providing temporary housing to homeless veterans, families with children, and unaccompanied youth in Boyd and Greenup Counties.
Admission is free, and an offering will be taken for Shelter of Hope. A portion of the proceeds from CD sales at the concert will also benefit Shelter of Hope.
"Shelter of Hope is looking forward to having Dean Phelps in Ashland, and we appreciate his support as well as the support of First Christian Church (Disciples of Christ)," said Debbie Sivis, executive director of Shelter of Hope.
First Christian Church is located at 1960 Winchester Avenue in downtown Ashland. For more information, call the church at (606) 324-5335.
Details about this show