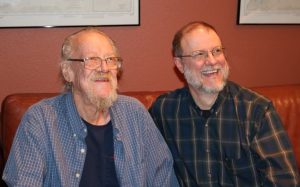 Monte Edwardson
April 1, 1942 – April 1, 2017
Guitar picker, gardener, and a good man.
With gratitude in your hearts sing psalms, hymns, and spiritual songs to God. (Colossians 3:16b, NRSV)
When I moved to Denver, I got acquainted with other area musicians by attending jam sessions and open mic nights. A few folks who heard me play would ask the same question, "Have you met Monte Edwardson?"
When I would reply that I hadn't, each one would say, "Oh, you've got to hear Monte; you two will really get along. You sound a lot alike."
Then one Saturday evening, I went to hear Mike McNeil play at La Dolce Vita in Arvada, and Monte was there. Some folks must have told him about me as well, because when I introduced myself, I remember him saying, "I've heard about you."
Let me insert here that it's not unusual to be told that you sound like or should meet some other musician. I'm cordial and polite, but I often take it with a grain of salt, needing to see for myself.
However, Monte got up to play during Mike's first break. He sat down, picked up the guitar, and strummed an open E chord. I can't explain it, but it was obvious from strumming that one chord with his thumbpick that I'd met a kindred spirit. I would call him my twin brother that was 15 years older than me.
Mike invited me up to play during his second break, and I think Monte had the same experience. Monte invited me to become part of the fingerstyle guitar group that met each month. He was a faithful participant at the cowboy country jam at Tenn Street Coffee on Tuesday nights. When Monte and I would join a song circle, we had so much overlap in our repertoires that we had to stop and think of songs that one of us did but the other didn't.
Monte loved music almost as much as he loved Kathy and his family. He loved his garden. He loved life.
More than a year ago, Monte received the diagnosis of stage IV pancreatic cancer. Given a short-term survival prognosis, Monte survived on what he loved. He continued to join the fingerstyle group and the country jam, even when, as he put it, his fingers just wouldn't do what he wanted them to do.
If a friend had a gig, Monte was there. Right up to the end, he showed up. He not only loved music, but he also loved his many friends who played. Many of us had the benefit of his support and encouragement.
He kept doing what he loved, and he invested his time with the people he loved. I believe that's what sustained him, nourished him, and kept him with us far longer than anyone expected.
Now we miss him. As a minister, I'm asked what happens after we die. Is there an afterlife? To tell the truth, I don't know what waits for us on the other side, but I do know this. I'll never play Guitar Rag, San Antonio Rose, or Smile, Darn Ya, Smile that I don't think of Monte. I'll never hear Sweet Sue or Up a Lazy River that I don't see his face and hear his voice. When we share what Monte gave to us, Monte lives on.
This Saturday, Deb and I will return to Denver, and I will have the privilege of presiding at Monte's celebration of life. Friends and family will gather in Monte and Kathy's garden. After a brief service, our worship, gratitude, and remembrances will continue. We will remember Monte with songs and stories. He couldn't have a more fitting tribute than for us to enjoy the community that he shared with us.
Take your flight, my friend. You've loved well and lived well. You will live on with us in memory and in melody. And us? We'll show up. We'll tune in to the melodies of life and let them stir blessed memories. We'll laugh. We'll cry. We'll remember.
And you'll make us smile, darn ya.