In 1983, I was the victim of a break-in at my home. My guitars—I owned two at the time—and my stereo system were stolen. The tools for music were gone. A part of my soul rode off in the trunk of someone's car.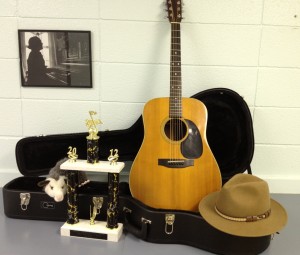 Not long after, I stopped in a music store in Smyrna, Georgia. I picked up a used Martin D-28 guitar from the rack and sat down to play. My left hand immediately formed to the contour of the neck. The body and strings seemed to sing as I walked through familiar patterns. I knew this guitar was special, that it was meant for me in some way. Like a visit to Olivander's, the instrument had chosen the player. I fell in love.
I have owned and played other guitars before and since, but that D-28 has been a partner for life. It was the first guitar with a name. Whether I gave the name or received the name, I'm not sure. I can't tell you who told whom, but this guitar would be my beloved Sara.
As I evolved musically, Sara would seem to adapt her sound to my changing style and taste. She has responded equally well to thumbpicking Travis beats, gentle singer-songwriter ballads, and driven country cover songs.
On each of my studio recordings, I'm playing Sara. At every competition, she was the guitar I chose. When I stood on stage between John Matsel and Dan Cantwell, two former national thumbpicking champions, only to hear my name called as the winner that day, Sara was with me. This guitar has been a musical companion through many such significant moments.
This past weekend, Sara accompanied me for a very special performance, another significant moment. I had been asked to perform my arrangement of Simple Gifts as part of a reunion concert for members of the University of Kentucky Choristers who had sung Salli Terri's arrangement of A Shaker Worship Service at the Shaker Village at Pleasant Hill in Kentucky.
I had no doubt that she was the right guitar for the occasion, but the trip involved air travel. I debated long and hard about taking a precious, now vintage, instrument through the uncertainty of full flights and limited storage. Still, she had to go. There was someone special I wanted her to meet.
Like so many Choristers, the music and the experience of A Shaker Worship Service continues to have a profound influence on me. We had learned and performed the music under the direction of Ms. Sara Holroyd, who was the Director of Choral Activities at the University of Kentucky's School of Music when I attended.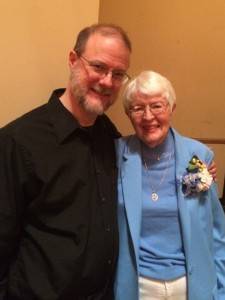 This was more than a reunion, though. We gathered to honor Ms. Holroyd, who turned 90 this year. Ms. Holroyd was not only a fabulous conductor. She is also a wonderful person and quite possibly the best teacher I ever had.
Knowledge and the ability to share it are important, but great teaching is also an affair of the heart. The return of more than 60 former students from across the United States indicated not only how much we love Ms. Holroyd. It told the story of how much she loves us. All of us.
What I saw again this weekend was how much Ms. Holroyd loves all her students. She cares for each of us, our lives, how we're doing. She cares as much for her students that disappointed as she does for her students that succeeded. It's an example I have tried to follow as a pastor and as a musician, to love and show kindness in all seasons, in success and in disappointment.
So Sara traveled with me to Lexington this weekend, precisely for the moment when I could say, "Sara, I'd like you to meet Sara."