This weekend, Kentucky and Louisville will square off in the Final Four of the Men's NCAA Basketball Tournament. The winner will play on Monday for the national title. For the loser, the season will end. These two in-state rivals have met in the tournament before, but never this deep in the competition.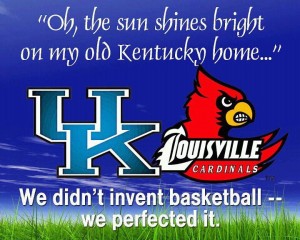 Kentucky is being touted as the best team in the nation. Ranked at number one for most of the season, some have called them unbeatable. They have a high level of talent and have enjoyed an extremely successful season with only two losses. They won over Louisville in the regular season matchup.
Louisville is peaking at just the right time, sweeping through the Big East Conference Tournament and winning four tough games in the NCAA Tournament to reach the Final Four. They come into the game as a talented and confident squad, and they may be looking for a little bit of revenge.
It's going to be an exciting game, and as a Kentucky native, I can't help but feel proud of my home state. But let me tell you just how I feel about it.
I grew up a Kentucky fan. I remember as far back as when Ronnie Lyons went to Lexington from my home town of Maysville to play for Coach Adolph Rupp and the Kentucky Wildcats. My parents were Kentucky fans. Back in the days when we could only watch home games by delayed telecast, they would go to bed earlier than usual, set an alarm and then get up at 11:30 p.m. to watch the game.
I was a student at the University of Kentucky when the Wildcats won the national title in 1978. I lived in the same dorm as the players. I (literally) ran into James Lee on the way to dinner one evening (maybe "bounced off of" describes it a little better). I have celebrated the glory days and endured the dark days.
In short, I love Kentucky basketball. But let me tell you just how I feel about it.
My love for Kentucky basketball does not translate into disdain for Louisville. This Saturday, the Louisville Cardinals are an opponent, not an enemy. Opponents are human. Enemies are often viewed as something less than human, something less deserving than ourselves.
This Saturday, if all goes well, players, coaches, and everyone involved with each team will pour themselves–heart, mind and soul–into 40 minutes of basketball. They will give it all they have, and when the final horn sounds, one team will win, and the other will lose. If Kentucky comes out on top, I will be jubilant. Should Louisville prevail, it will sting. If Kentucky wins, I want to recall how the sting feels. Celebration has to be tempered by empathy because empathy recognizes the humanity of the opponent.
In the culture of the United States, as I currently see it, we have become very quick to find enemies, even among ourselves. We have fewer and fewer opponents. Those who disagree with us become less than human, less deserving than ourselves. We all too quickly dehumanize and objectify those whom we find on the other side of any question.
It would be good if basketball could help us keep things in perspective.