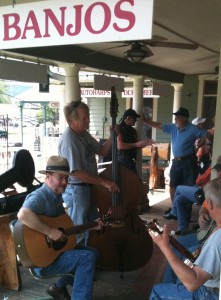 After all was said and done, after the trophies had been handed out and the last set heard, I found myself back on the square, back on the porch in front of Mountain View Music where I'd had such a good time. I wondered up to that particular group because Jim Moak was playing bass with them.
Jim and I had met on that porch the day before as an impromptu jam session broke out, playing for a couple of hours that passed so quickly. It was yet another occasion when playing music together had forged a quick bond.
By the time I got there, Jim was playing his last song with the group. As he packed up and another bass player took his place, we exchanged greetings and cards, then I continued to listen. I kept noticing the Taylor leaned against a bench, looking lonely and unplayed, so after a few songs I asked if I could join in.
We didn't really take time for introductions. They were on a roll, and so we just kept playing. They found out I was from Indianapolis, so when they wanted me to take a break, they'd just call, "Hoosier Man!"
The night was chilly as a light wind moved the cool evening air, but nobody seemed to care. We were warm enough. It was the most fitting way to wrap up my time in Mountain View before heading out early the next morning, playing music and joining the community.
That's what music is all about, if you ask me: porches and community. Harmony happens when each plays his or her own part, joining in and contributing to the whole. Hospitality happens in the jam when folks are invited into the circle. Their music is heard, and they hear the music of others. We all give a little bit, and it all fits together. We learn, and we share. We find joy in one another's contributions.
I wonder if churches could be more like jam sessions.