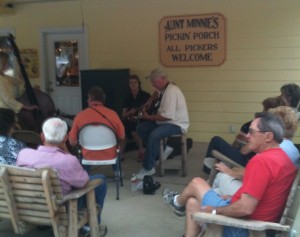 It was a long, pretty and uneventful drive from Greenwood, Ind., to Mountain View, Ark. The road took me across the Mississippi River near Cairo, and it was astounding to see how high the water still was nearly a week after the river had crested. It took me up into the Ozark Mountains with some stunning vistas. It took me through small towns, worn and weathered with age but still standing.
I arrived in Mountain View in the early evening, hungry after the long trip. I was fetching the guitars out of the car at the Fiddler's Inn, and a couple that had arrived by motorcycle were getting the last of their things out of their trailer. I heard her say, "He's got a guitar, Jerry," which prompted Jerry to ask if I was going to the square.
I had been told about the jam sessions on the square in Mountain View. Just about every night, weather permitting, local musicians and visitors gather on the porches or in the gazebos to make music, sometimes playing well into the night. Folks bring chairs and will sit and listen as long as the music plays. Friends correctly predicted it would be the highlight of the trip for me, topping the thumbpicking contest I'd come to town for.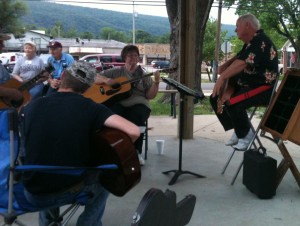 After listening for a while and getting my bearings, I grabbed a guitar and joined a group that included a knockout mountain dulcimer player. It seemed he was ready for anything, sitting next to a box in which he kept six different dulcimers so he could change keys quickly. Before a thunderstorm chased us away, we had played I Am a Pilgrim, Life's Railway to Heaven, Tom T. Hall's I Want You to Meet My Friend, and When You and I Were Young (Maggie).
Mountain View is the home of Jimmy Driftwood and proclaims itself the "folk music capital of the world." I learned that the tradition of public jam sessions dated back to the Civil War. More than just having a history and a reputation, though, Mountain View has created the environment for this kind of musical fellowship, where local resident and visitor alike can join together in the sacred bonds of music.
It takes more than history for Mountain View to welcome folks "from off"–their term for visitors–into the musical circle. To practice this kind of hospitality involves putting yourself out a little bit, like the eateries that stay open until 9:00 or later when it would be more convenient to close up and go home at 5:00.
I left with the impression that everyone in town must play, because at any time of day it seemed like somebody somewhere had a jam session going. However, I was much more impressed by the welcome I received. Mountain View is a welcoming and inviting place that makes it clear they want you to stay, play and listen.