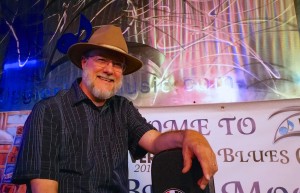 Dean Phelps combines the rhythmic beat of thumbpicking guitar with a soulful vocal style. Part blues and part old school country, Dean stirs his guitar and voice into a repertoire of songs from the late 19th and early 20th centuries along with a few pages out of the hymnal, creating a style that is reminiscent of performers like Merle Travis and Doc Watson.
Dean has earned both local and national recognition for his guitar playing, winning the National Thumbpicking Guitar Contest at the Ozark Folk Center in Mountain View, Ark., and being named thumbpick guitar champion at the Indiana Picking and Fiddling Championship.
Dean has appeared as the featured guest on Red Barn Radio and has performed at Denver area venues like the Oriental Theater and Swallow Hill.
---
Phelps … has fallen in love with some of America's first authentic music — the folk and gospel from the late 1800s and early 1900s. The haunting melodies and hopeful lyrics seem to bring a positivity that appeals … to audiences as well.
Albums by Dean Phelps