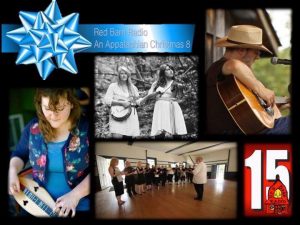 On December 7, Dean will join with The Sara Holroyd Singers, a group composed of University of Kentucky Choristers alumni, in a performance of A Shaker Worship Service. The Singers will perform as part of Red Barn Radio's Appalachian Christmas 8. The program will be recorded at Arts Place in Lexington, Ky., at 8:00 p.m.
In addition to singing with the Choristers, Dean will perform I Wonder As I Wander as part of the program.
Performers
Appalachian Christmas 8 will also include performances by Sara Kate Morgan and The Local Honeys. Sarah Morgan started her musical journey at 7 years old and has fallen in love with traditional and folk music through the years. A native of East Tennessee, Sarah has incorporated the rich musical heritage of the area into her music.
The Local Honeys have cultivated a distinguishing sound by utilizing their powerful voices, in both sweet and haunting, intricate harmony. They have sung and played for audiences across the Appalachian region and internationally in Ireland, Jamaica, and Canada.
Details about this show