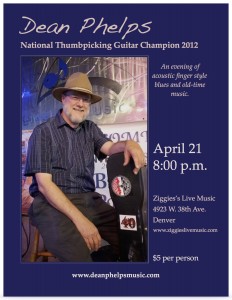 Ziggie's is the oldest blues bar in Denver and a really cool place to play. I got turned on to this stellar venue by Brian Keith Wallen. Brian stops at Ziggie's pretty much every time he tours through Colorado.
Ziggie's boasts live music 7 days a week, including regular blues jams on Wednesdays and an open mic on Sunday. On Thursday evenings, they typically book solo performers.
Last October, I had my first experience playing at Ziggie's, and let me tell you, it was a blast. So I'm looking forward to two shows at Ziggie's this year. I'll be there solo on April 21, 8:00 to midnight. Then Brian Keith Wallen and I will be on a double bill on September 15. There will be a $5 cover both nights.
Ziggie's Live Music
4923 W. 38th Ave.
Denver, CO
April 21, 2016, solo performance, 8:00 to midnight (BandsInTown)
September 15, 2016, double bill with Brian Keith Wallen, 8:00 to midnight (BandsInTown)